Top Dollar Cash for Truck Wreckers In Gold Coast
Gold Coast Car Wreckers is a reliable Truck wreckers and fast Truck removals service. We pay top dollar cash Instantly. If you want to sell your Truck quick, we can help you to get free of your Truck even It is not roadworthy or broken down.
Do You Want a Truck Removing?
If you want to get quick Truck removal anywhere in Queensland, then We will give you quick cash for your Truck. Because we pay great rates for old Truck's whatever the make/model & condition.
Probably, We will transfer your Truck, whatever make/model & condition. even if you have a failure that you want to sell, we consider all kinds of vehicles.
Do you need quick money for your Truck?
If you want to sell your SUV, car or Truck, Gold Coast Wreckers are the excellent Truck wreckers in Gold Coast. Similarly, want to sell your Truck to a trusted Truck wrecking organisation in Gold Coast and get the genuine rates of your old Truck.
So If You Have a Damaged or Broken Truck and Want Top Dollar Cash Up To $13,999.
Contact the Gold Coast Truck Wreckers today.
Finally, arrange no-obligation quote for your truck.
goldcoastcarwreckers.com.au offer a fast removals service for Truck's and all other kinds of vehicle, regardless of their condition.
We can also pick-up any working or damaged Trucks, from any location, from the Gold Coast at Queensland.
At Gold Coast Car Wreckers, we have trusted employee who lives at Gold Coast, Queensland. Due to many people, we have vehicle removals service team across the Gold Coast. we can come to your residence to collect your old Truck, wherever you are. we also pay top dollar cash instantly at the same time we pick-up your old Vehicle.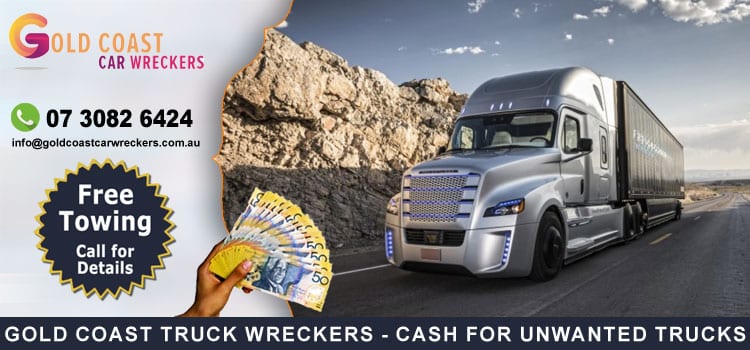 The Best Truck Wrecking Company in Queensland
Gold Coast Car Wreckers offer the top Truck, 4X4, SUV and wrecking service in Gold Coast. Our customers proudly recommend our services.
All genuine quotes – Also Best prices for selling a vehicle.
Finally, The best rates for your scrap Truck.
Quick and Fast truck removal service in Queensland.
Cash on collection.
Any Make, Model or Age examined.
So helpful Client Service Team.
Get up to $13,999 cash for your old scrap Truck's
By making sure our customers get their cash quick for their unwanted Truck. we make it easy to get free of an old Truck hassle-free. Arrangement to get an old vehicle collection and removal in Gold Coast has never been as simple.
As a result, If you want to get cash immediately upon collection of your old Truck. Give a call today and see how much money you can get for your Truck, whatever the condition.
All Models Accepted
Almost accept Any Age
Any Condition
Take Any Manufacturer
Any Model
At Gold Coast Car Wreckers, we also offer scrap auto dismantling services for not running or unwanted trucks and more. We are a whole vehicle removal service. We usually take in old Truck's and pay top dollar cash fast.
Some of Our General Wrecking Brands Are –
Hino
Volvo
Fuso
Mack
Nissan Diesel UD
Tata
Isuzu
Freightliner
Ford
Mitsubishi
Daihatsu
Mercedes
If you have a petrol or diesel Truck for sale, we can help you discharge the cash. We will often pay cash within 12 – 24 hours of calling. You have the cash when the vehicle is being picked, right there and then.
We have made it fast and simple to sell your unwanted vehicle, even if it isn't working properly, We can still pick your old Truck for free. We are also glad to serve you with the paperwork requirements as well.
Our Professionals are so qualified and can help to answer any queries. you might have about our Truck removal and wrecking services. We are a manageable and trusted car removal service Gold Coast, Queensland. who pays the top cash, and likely one of the fastest cash for an old Truck's as well.
Call Us Today to Consult How Much Cash You Can Get for Your Working or Scraped Truck.
Above all, If you are in Queensland and want to get quick cash for your scrap Truck. Gold Coast Car Wreckers can simply provide to pick your unwanted vehicle quickly. We pay cash at the time of collection. It is simple and fast to get your old Truck removed.
Finally, Call our Truck wrecking professionals today on 07 3082 6424 or fill the form to get in touch with us. You also find out how much money we pay instantly for your unwanted Truck.